Anomaly Warzone Earth [$1.99|$3.99] takes the concept of tower defense games and turns it upside down. Instead of defending yourself from wave after wave of enemies on your iOS device, this time around you are the one making your way through predefined defense structures. And I'm happy to say that the result is a game that feels very unique and stands out from the many casual games that are available for iPhone and iPad.
In Anomaly Warzone Earth our planet has been invaded by some nasty aliens and it's your objective to fight back. Easier said than done, because throughout the campaign you'll regularly have to face new alien structures that will try to stop you from succeeding. But it's not just the aliens who are introducing new units every so often, you will also be given new troops to blast those defenses to oblivion. To make things more complicated, you can collect resources throughout the missions that will allow you to upgrade or swap specific units. But that's not all, in order to keep things interesting as your troops are making their way through enemy lines, you are given a limited amount of special abilities which you'll need to activate at the right time to support your troops.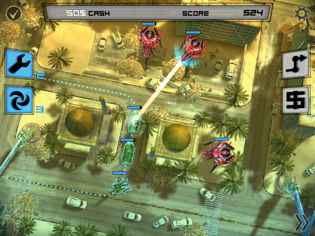 As you can imagine by now, Anomaly Warzone Earth offers quite a bit of strategic depths that want to be explored and exploited. First, there's the choice of troops, then there's the route you plan to take, the choice of upgrades for your troops and the strategic placement of the special abilities. Such an amount of options could easily be overwhelming, but Anomaly Warzone Earth's campaign does an excellent job at introducing you to each element and slightly increasing the difficulty. It manages to offer you a challenge that makes you feel you've accomplished something once you successfully finish a mission, without ever being too frustrating to move on.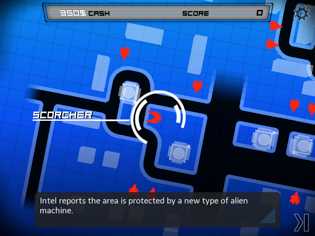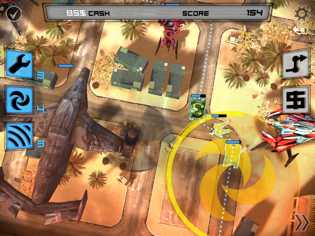 Anomaly Warzone Earth was first released on Mac and Windows systems before it saw the light of day on iOS devices. So the first question that came to my mind was obviously if the controls translated well from mouse to touchscreen input. And what can I say, the folks at 11 bit studios really nailed this transformation. It actually feels as if the game was developed with touch controls in mind, that's how well they work.
And it's not just the controls that shine, the presentation is also more than satisfying. The mission briefings are fully voiced over and sound very professional. The music and sound effects fit the action on screen perfectly and the graphics are also nice to look at. Everything is very polished and makes sure that Anomaly Warzone Earth [$1.99|$3.99] feels like more than the sum of its parts. This is a game that strategy fans shouldn't miss and I'm sure that it will introduce new fans to the genre!
CHECK OUT MORE STORIES AND SHARE THIS ARTICLE: