Sometimes you are wondering, 'Why has nobody thought of this idea before?' – that's at least what I did when I got my hands on Cut the Rope. The idea behind it just seemed so obvious and well suited for the iOS platform that it is crazy it took so long for such a game to arrive. On top of that it's presented in a very colorful and cute way and we have learned from Angry Birds that an addictive gameplay combined with a cute presentation is a formula for success on the App Store.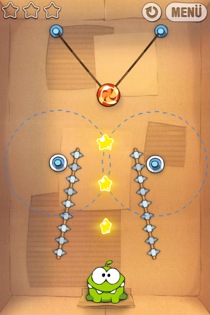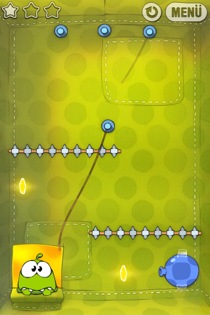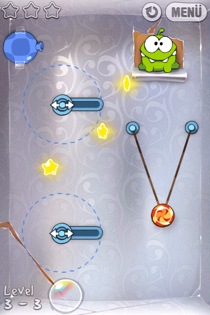 The story behind the game is simple and describes your task very well. Basically, there's a box in front of your door with a little creature called 'Om Nom' that needs to be fed by you. Shouldn't be that hard, right? The trick is that you need to guide the candy right into little Om Noms mouth. You will be doing this by, here it comes, cutting the rope that the candy is attached to. You will do this by simply swiping your finger across the rope you intend to cut. This is very simple at the begging since there is only one rope hanging right above Om Nom. So you cut that one and that's it. As you advance to further levels, new tools and obstacles will be introduced to make this task become more and more tricky. The candy will start floating around in bubbles, spiders will crawl down your ropes to steal your candy and spikes will wait to destroy your candy if you let it touch them, just to name a few. New tools and obstacles are introduced one by one and combined with the ones you're already facing, the difficulty slowly ramps up.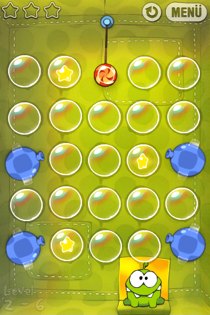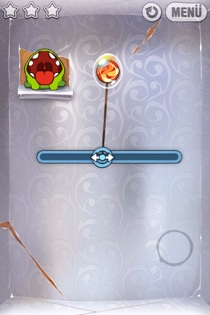 But getting the candy into Om Noms mouth is not everything that's to it. In every level there are 3 stars waiting to be collected. You can do so by touching them with the candy. Collecting the stars is not only optional, because once you have collected a certain amount of them you will unlock the next box with new levels and challenges. So sometimes it is quite easy to get the candy to Om-Nom, but really hard to collect all 3 stars on the way. But it never feels frustrating, the game always kept me motivated to get "just this one more star".
This is a clear recommendation to anyone who is into physics based puzzle games. It is definitely amongst the best of the genre on the App Store. And on top of that Chillingo keeps on supporting it with updates that bring new boxes, which is always very nice to see. And as we were speaking of success formulas at the beginning: Cut the Rope has sold 1 million copies in its first 10 days. You were not amongst them? For $0.99 on the iPhone it's a steal. The iPad version will set you back $1,99 and there are even 2 free versions for you to try, the common lite version and a Holiday special. So what are you waiting for? Om Nom is hungry!
CHECK OUT MORE STORIES AND SHARE THIS ARTICLE: