It seems to be an unwritten law that games based on movies suck. That's why I am more than happy to say that Angry Birds Rio is clearly an exception to that rule. It turned out to be a great game that uses the movie only as a theme to surround its terrific gameplay formula.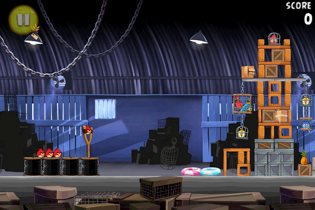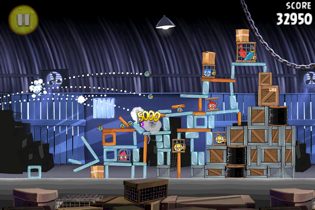 And that formula remains almost untouched in Angry Brids Rio. The objective is still to tear down a structure that is put together out of different materials like glass, wood and stone. You will do this by shooting 'Angry Birds' via a slingshot right at the structure. The game gives you a different set of birds for each level, with each bird being especially good at destroying one type of material. So you will first have to identify a structural weakness and then go for it with the appropriate bird. A little twist is that you are now asked to destroy cages that are put into the structure to free birds that are trapped inside rather than hitting some mean pigs. But this is more of a visual change rather than having any influence on the gameplay. There are also bonus fruits and characters of the movie to be discovered. In the final of the 60 levels you will even come across a boss fight.
The presentation has been tweaked everywhere. The graphics are sharp and the 2 locations, warehouse and jungle, are really nice to look at (I especially like the warehouse). Rovio has also added some parallax scrolling that creates a bit of depth and gives the visuals a nice touch. Even the menus have been tweaked to be more accessible.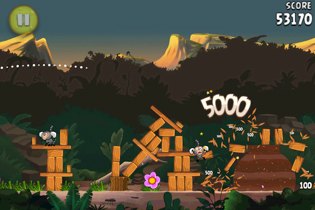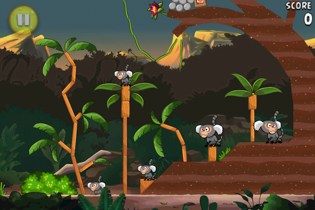 And there is more to come: On the level selection screen are 4 empty slots named 'May', 'July', 'October' and 'November' – so get ready for some more action to come within the next months. I always appreciate it a lot when developers keep on bringing new content to their games with regular updates, so kudos to Rovio.
Right now Angry Birds is the biggest brand in mobile(phone) gaming and rightly so. It just blends together the accessibility of a casual game with the challenge and depth of 'hardcore' titles so incredibly well. Angry Birds Rio is a great addition to the series and available on the App Store for iPhone [$0.99] and iPad [$2.99].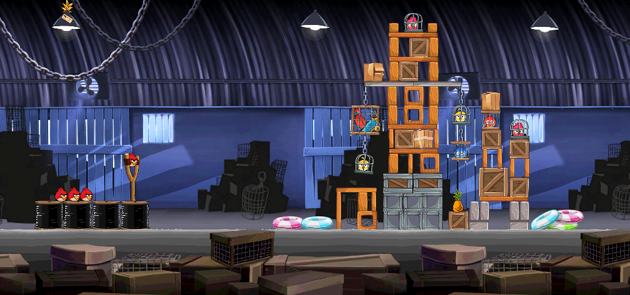 CHECK OUT MORE STORIES AND SHARE THIS ARTICLE: