Max and the Magic Marker combines classic platforming with physics based puzzles. But unlike your usual platform game, you wont be looking for keys and buttons to get through the levels. Instead, you are given a Magic Marker to draw your way around the various obstacles. The drawing is implemented very well and really gives you the ability to come up with your own solutions for the puzzles.
But before you can start drawing, you will first have to collect ink for the Magic Marker. That means in each level there's only a certain amount of ink available to limit the size of your drawings. You can always erase what you have drawn before to refill the Marker, but the limit is necessary so you can't just build one huge bridge from the start of the level to the end. It was fun to figure out the puzzles, but I would have like to see some more difficult ones later on in the game – the solutions are always rather obvious.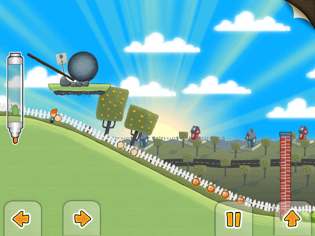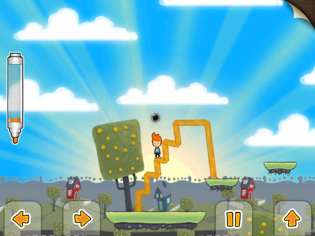 Unfortunately, the platforming controls aren't as precise as you'd want them in a platforming game. And that's not because of the touch interface, plenty of titles on the App Store can do it better than Max and the Magic Marker (League of Evil and Pizza Boy for example). There is some sort of input lag and a general unresponsiveness that can make it hard to pull off some of the trickier platforming which can be frustrating from time to time.
The presentation is a mixed bag. While the graphics do get the job done, there's nothing really special or unique about the art style and I found myself turning off the music just after a few minutes into the game. What's positive and motivating is the solid amount of achievements and the challenge to finish each level with all 3 collectibles within a certain amount of time to get the best rating. This adds quite a bit of replay value to Max and the Magic Marker and it was not only once that I came back to a level to finally get the best rating.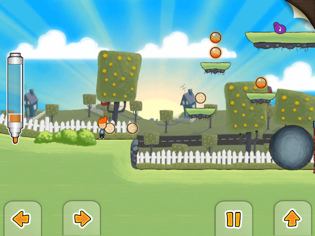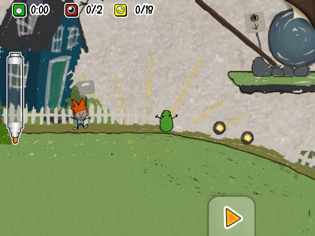 All in all Max and the Magic Marker is built around a creative concept and comes with plenty of levels, but suffers a bit from controls that don't do it justice and a somewhat weak presentation. However, despite the set-backs I still had a good amount of fun with it. If you are into platforming and like to get creative, you'll most likely enjoy what Max and the Magic Marker has to offer. And as I am writing this review, there's currently a 50% sale on the iPhone version [$0.99] and a 40% sale on the iPad version [$2.99] – so you'd better be quick!
CHECK OUT MORE STORIES AND SHARE THIS ARTICLE: