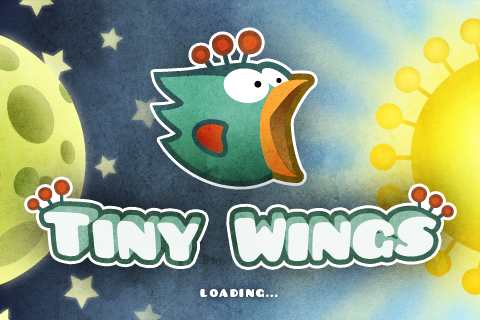 Tiny Wings is one of these games that really shine on the iOS platform. While the game was probably targeted at the mainstream and casual gamers, it is executed so well that it has something for everyone in store, even for gamers that usually are looking for a more complex experience.
Tiny Wings is just so well executed. It is simple, beautiful and addictive. By simple I mean probably as simple as it gets. The controls consist out of touching the screen and not touching the screen. Simple, right? The gameplay is also explained very quickly: You control a bird that can barely fly. That's why you need to help him by utilizing gravity in the form of loads of tiny mountains. If you touch the screen, the bird becomes heavy and gains speed while sliding downhill. As soon as you start sliding uphill you lift your finger from the screen. The bird will now flap its wings and will fly a little, depending on how much momentum it gained. So it is all about the right timing to get as much momentum as possible. The game ends once the night catches up so the faster you go, the further you come. On the way you can collect coins, fly really high to touch the clouds and get a perfect slide through a valley to get some bonus points. There is also a multiplier for these points, triggered by three perfect slides in a row. This will put you in 'Fever Mode' that lasts as long as you keep making great slides and all points earned are worth double during that time.
It is one of these 'takes one minute to learn, but a long time to master' concepts that makes it so addictive.
The art style of this game is great. Everything is designed with great attention to detail and very intuitively, including the menus and the tutorial. It looks like a pastel painting and runs super smooth on even the first generation of iDevices. The sound and music is charming as well but somehow I found myself turning it off after a few minutes – but maybe that's just me.
While being a bit limited when it comes to the amount of content, priced at 0.99$ this is a fair deal that will definitely shorten your next wait for the bus. And as always in the App Store, there is a good chance that future updates might bring something new to Tiny Wings. Game Center support for example is already announced by the developer, currently it comes with OpenFeint only.
So if you enjoy the occasional casual snack, you should really give 'Tiny Wings' a try.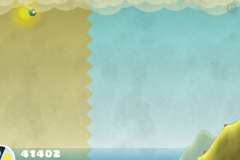 CHECK OUT MORE STORIES AND SHARE THIS ARTICLE: