Yep, the headline is true – and I think out of all games I own Spirit is actually the only game that I never deleted since I originally got it from the App Store. Spirit really is my go-to game whenever I am stuck waiting somewhere.
Remember our review of Tiny Wings? You can basically apply almost everything that was said about the current number 1 on the App Store to Spirit: The gameplay is simple yet original and a perfect fit for the iOS devices. It is easy to understand but hard to master and the visuals (think of Geometry Wars) are beautiful to look at. Did this grab your attention? I hope so, because the game is really worth checking out.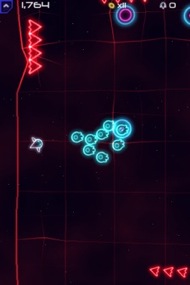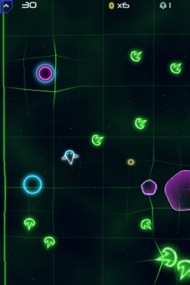 You're taking control of the very agile 'Spirit' that has to not only avoid geometric figures that are floating around, but warp them away. Some of these figures float around randomly, some have a fixed movement pattern, and some of them even chase you. If any of these figures touch the Spirit, you lose one of your 3 lives. But avoiding them doesn't do the trick: The Spirit leaves a slowly disappearing tail behind itself while moving. If you are fast enough to form a circle with the tail, it will create a warp hole that sucks in all of the geometric figures that get too close to it. Which will however make new and even more aggressive figures appear. But sucking them in is what will boost your highscore. The points you earn depend on how many figures you suck in with one warp hole – the more, the higher the multiplier.
That said, it is crucial that you are able to control the Spirit as precise as possible. And oh boy, are the controls slick. This game really stands and falls with its controls and the developer absolutely nailed it. All you have to do is slide your finger across the screen and the Spirit will mimic your movement. No buttons, no d-pads. This works without any recognizable input delay and feels just perfect.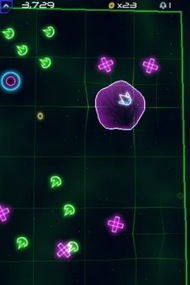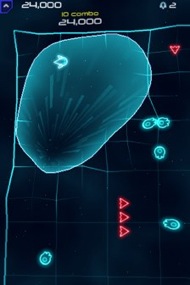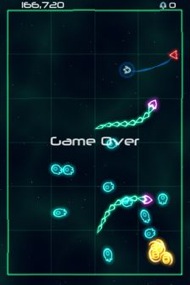 The visuals are really nice to look at – bright colors will light up your screen while the outlines of your warp holes pulse organically. It's the attention to detail that stands out once again and is so important in my opinion – even the tiny wings of the Spirit are animated. The sound and music don't disappoint either. While being very subtle, the audio really complements the gameplay for me in an engaging way.
There are 3 game modes: 'Classic', 'Extreme' and 'Pulse'. While 'Classic' is the one I have been describing and 'Extreme' is, well, a more extreme version of the 'Classic' mode, 'Pulse' is a bit different. It was just recently introduced by the developer in an update. In this mode you lose the ability to create warp holes – instead there randomly appear floating circles that will expand into warp holes when your Spirit touches them. This is an interesting spin on the gameplay and I really enjoy this mode.
The game is currently on a 50% sale for $0.99 – it is not mentioned how long this sale will last. If 'Geometry Wars' like arcade games are your thing, I can only recommend to grab Spirit. It will be a nice workout for your thumb and maybe it will become your go-to game as well.
CHECK OUT MORE STORIES AND SHARE THIS ARTICLE: