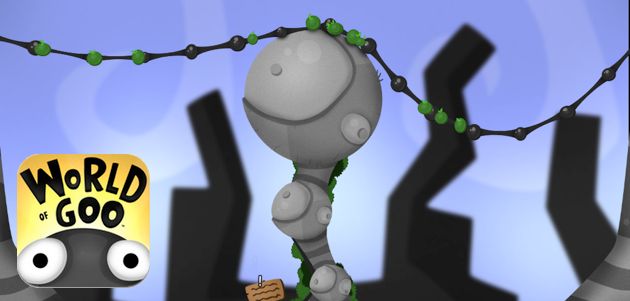 When World of Goo was initially released back in 2008 it was received incredibly well by critics and players all over the world. Back then, quality indie games were not as common as they are nowadays, so you could also say World of Goo was one of these titles that contributed to this positive trend. Because of its success it has been ported to all sorts of platforms, including a version for iPad in December 2010 and it was released just recently for iPhone.
World of Goo is a physics based puzzle game. The goal is to rescue as many goo balls as possible buy utilizing their stickiness to build structures towards a pipe that sucks the unused goo balls out of the level. So your success depends on how effective you place the limited amount of goo balls available in each level to maximize the number you can rescue. There are different types of goo balls with different attributes such as stickiness so that each level will always require a specific type or mix of these goo balls. This results in a great deal of variety that's put into the level design – you will have to construct floating bridges with the help of helium balloons and build towers and other crazy structures to navigate the goo balls around various difficulties that, if the goo balls touch them, will most likely destroy your structure. If you recover more goo balls than actually needed to complete the level, those will be available for you in a sandbox like game mode where you compete with players from all over the world to build the tallest tower.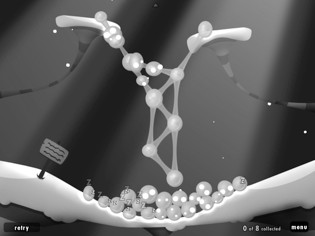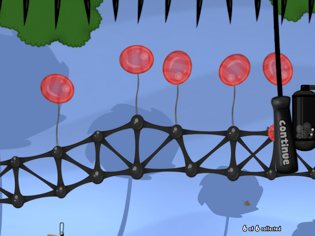 World of Goo is an incredibly polished experienced from start to finish. The art design is very unique and nice to look at with some great animations. From the way your structure moves you always get the idea where you will face a structural weakness if you misplace the next few goo balls. It's impressive that even if you fail quite a few times in a certain level, you will still be motivated to keep on trying yet another time. World of Goo always gives you the feeling that the outcome is 100% up to your actions – and if something goes wrong, you can almost always tell where the problem was and how to make it better next time.
World of Goo is available in two versions; The iPhone version requires at least an iPhone 3GS or 3rd Gen iPod Touch and will only run on those devices for a price tag of $2.99. The slightly more expensive iPad version will set you back $4.99 but comes as a universal app. As we have already pointed out, while World of Goo works great on iPhone and iPod Touch, it definitely benefits from the larger screen of an iPad. World of Goo is one of these games that you really shouldn't miss out, so if you haven't played it yet, go and grab it!
CHECK OUT MORE STORIES AND SHARE THIS ARTICLE: