Liqua Pop could be considered as something like a prototype of a casual game. It is very simple to understand so everyone can pick it up and instantly start having fun. And the stunning visuals make sure your eyes are in for a treat as well.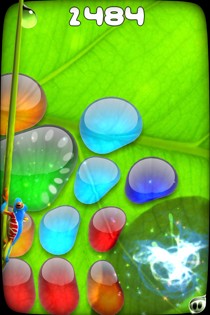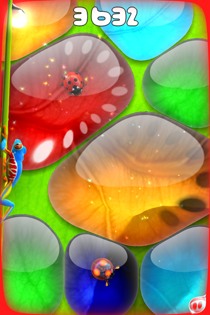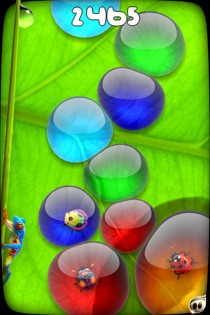 The gameplay mechanics behind Liqua Pop are very, very simple. You have to match water drops of the same color that are falling down to make them pop before the screen is completely filled up. Once you have combined 4 drops a timer will start to make the drop pop. But since you will get more points for bigger drops you can reset that timer by double tapping the drop to combine it with even more drops. Shaking your iPhone will make all the drops with an active timer instantly pop. The game will also one by one introduce bugs that are caught up in the drops. Each of these bugs will have a special effect like changing the color of all surrounding drops, if you pop the water drop it's in.
On the left side of the screen is a frog called 'Toadie' climbing up a straw. Popping drops will help him climb up the straw to reach a shiny drop at the top. Once he reaches it, the level is complete.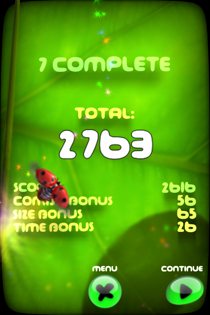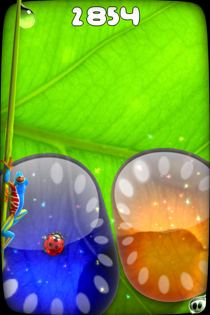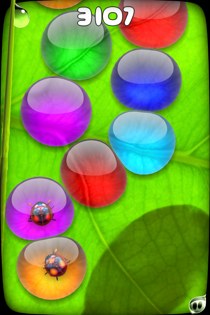 The presentation of Liqua Pop is stunning. The drops come in bright colors and feature a great looking liquid simulation that is fun to mess around with. The sound gives the game a relaxing touch to it thanks to its nature sounds with brids tweeting in the background.
The game is available for $1.99 on the App Store. But have in mind what I mentioned at the beginning: This is a casual game through and through. So while this might be great news for people who just want to start up a game every now and then while waiting for the bus, it could be a bit of a setback if you appreciate more complex games.
CHECK OUT MORE STORIES AND SHARE THIS ARTICLE: