Ah, Monkey Island. Just hearing the name of this classic point-and-click adventure makes me already feel all warm and fuzzy inside. If you are amongst the older generation of gamers, I bet you feel the same. And once I tell you that The Secret Of Monkey Island: Special Edition is a great remake that works incredibly well on iPhone and iPad, then you'll probably stop reading and start downloading this game on the App Store this instant. And in case you are new to the Monkey Island franchise, let me tell you that you're in for a real treat!
The Secret Of Monkey Island was first released in 1990 and was very well received by both critics and gamers. Considering that this game is over 20 years old, it is amazing how much fun it still is today. If nostalgia is what you're looking for, I'm pleased to say that you can play through this game in its original glory complete with the original music and user interface. However, the special edition also comes with some new features. If you want to, you can turn on some brand new graphics and fully voiced over dialogues. Personally, I really like the new presentation. It's modern yet very truthful to the original. What's really neat is the option to compare the two versions at any time – you just need to swipe across the screen with two fingers and the game instantly changes its look.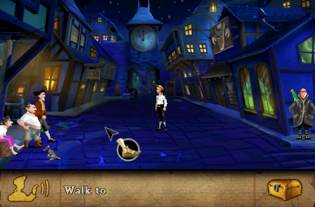 In The Secret Of Monkey Island you'll help a guy named Guybrush Threepwood to become a real, mighty pirate! Problem is, this guy is not exactly what you would imagine when you think of pirates. That's also the impression that practically all of the characters in the game will have of Guybrush, which will result in some hilarious dialogues. The gameplay consists of talking to people, collecting and combining various items, and using these items in the right places or with the right people. The typical point-and-click affair. In case you get stuck, you can access a built-in help system by shaking your iOS device. Every time you shake it, it will become more specific up to a point where it basically tells you exactly what you need to do next.
You control the game by pushing around a context sensitive pointer on the screen. This might seem a bit awkward at first, but I got used to it after just a few minutes and found it to be an excellent match for a point-and-click adventure. It's not as straight forward as using a mouse on your PC, but it works well enough to not get in your way of enjoying the game.
The Secret Of Monkey Island: Special Edition is a great version of a game that helped to define a whole genre. Unfortunately, you will have to choose between the iPad [$4.99] and iPhone [$2.99] version. In case you prefer to play your games on the go let me tell you that the game works very well on the smaller iPhone screen.
CHECK OUT MORE STORIES AND SHARE THIS ARTICLE: