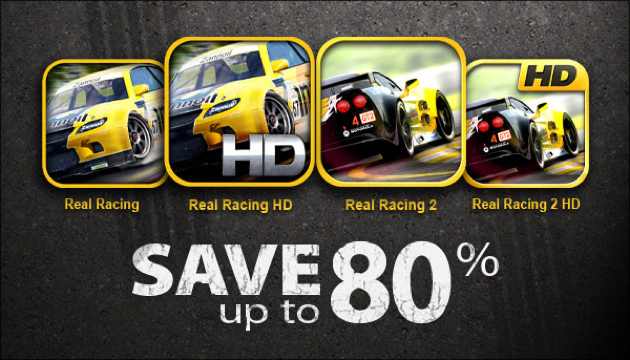 Firemint's cutting-edge Real Racing Series for iPhone and iPad is on sale during this weekend! That's great news if you've been holding back to buy one of their games because of their high prices – although I have to mention it: These games are totally worth the bucks.
Here are the deals:
• Real Racing 2 – $4.99 – 30% Off
• Real Racing 2 HD – $6.99 – 30% Off
• Real Racing – $0.99 – 80% Off
• Real Racing HD – $1.99 – 60% Off
We have just recently spoken about Real Racing 2′s upcoming wireless streaming support in combination with an Apple TV. It's also worth mentioning that it was amongst the first games to offer enhanced features that took advantage of the iPad 2′s beefier hardware and 1080p HDMI output. In short: If you're into racing and you don't own it yet, this deal is made for you!
CHECK OUT MORE STORIES AND SHARE THIS ARTICLE: